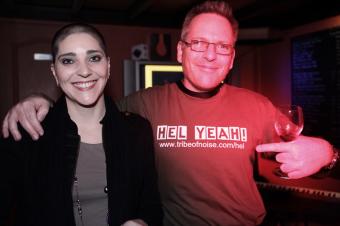 Hel is a multi-talented singer songwriter from Barcelona. Her deep acoustic melodies and soft voice can truly awaken our senses.

The ability to sing both in English and Spanish is one of Hel´s great characteristics. Maybe that is the reason why her music is very often featured in our In Store music service.

This year, a couple of Hel´s great songs were selected to be among the winners of our "Sync Music Around The World Tour" contest, a combined effort between Tribe Of Noise and Getty Images Music.

---
Songs by this artist
| | | Title | Artist | Time |
| --- | --- | --- | --- | --- |
| | | Amanece para todas las alma | hel | 4:39 |
| | | Bolsa de viaje | hel | 3:46 |
| | | Flying back ´11 | hel | 3:47 |
| | | Getting on | hel | 2:47 |
| | | Not this time | hel | 4:17 |
| | | Paper House | hel | 4:02 |
| | | Remus | hel | 3:06 |
| | | Six Steps | hel | 4:22 |
| | | Smart Guy | hel | 4:12 |
| | | Sunflowers | hel | 3:36 |
| | | The elephant song | hel | 6:37 |
| | | There all the time | hel | 3:38 |
| | | Thinking of China | hel | 3:55 |