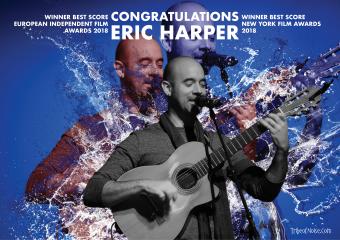 Now a Canadian resident, Eric Harper has an impressive curriculum both as a studio and performing artist. Amongst many others, he has performed with multi Grammy Award winner KC Porter, Chinese pop sensation Cheng Lin, Santana producer JB Eckl and Juno Award winning producer Joby Baker.
In 2003 Eric composed, performed and appeared in an Adidas commercial featuring internationally renowned Spanish golfer Sergio Garcia.

One of Eric´s most remarkable achievements was when he worked as the main Composer for the Oscar Award-Winning movie "Waiting Alone" (2005).

This is one of a kind talent and we are very excited to have his music on our platform. It is full of energy, beautiful melodies and his multi lingual songs have a great universal appeal.

So - sit back, enjoy the music and visualize its potential.

---